The last thing anyone wants is to have their heating, ventilation, and air conditioning (HVAC) system fail on them on 90-degree days with high humidity levels. Just about everyone hopes this HVAC issue never happens, particularly when they need the cool comfort of their HVAC system the most. Unfortunately, if your system is very old and has not received regular maintenance from certified HVAC technicians, your HVAC unit may fail at some point, particularly during high-use months and seasons.
Fortunately, with preventative HVAC maintenance, you can help ensure your system functions at peak performance and efficiency all summer! The best and most convenient way to get your system serviced regularly is by joining an HVAC maintenance program, like our Home Comfort Club! Here, our HVAC contractors at Spoor's Heating & Air Conditioning discuss the benefits of joining a maintenance program for prompt, reliable, and professional HVAC service. Contact us today to enroll in our HVAC maintenance program!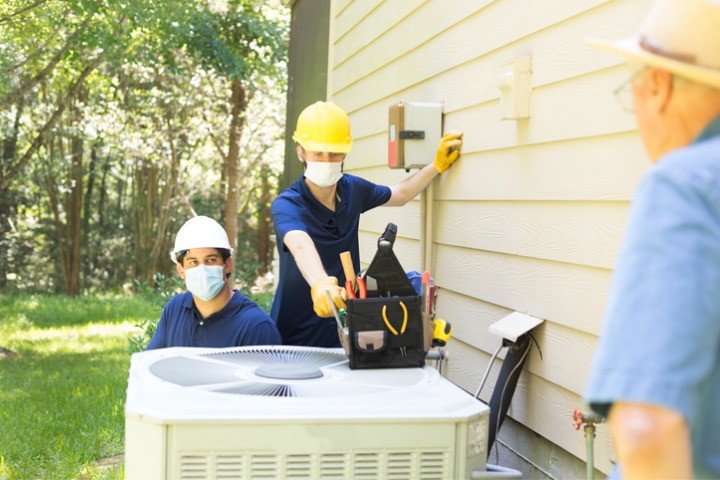 Get Priority HVAC Service
As summer peaks, you'll likely rely on your air conditioner more than any other month. But what would happen if your HVAC system suddenly developed an issue or ceased functioning altogether? If this should happen, your home would be uncomfortable and a potentially hazardous environment for your household members. While you can call an HVAC technician to schedule a repair during peak AC repair season, it might take a while for them to arrive and service your system. But by enrolling in an HVAC maintenance program, you get priority HVAC service, so even if you experience an unexpected issue with your system, your HVAC system will be prioritized.
Extend Your HVAC System's Lifespan
Most HVAC systems have a lifespan of approximately 10–15 years. This approximated lifespan can be cut in half or more for systems that skip regular maintenance and tune-ups. New, modern HVAC units are a substantial investment in cost, though they offer innovative upgrades to efficiency and indoor air quality. The best way to protect your investment in an HVAC system is to ensure it receives the care it needs with professional maintenance. Enrolling in an HVAC maintenance plan will help maintain every system component to ensure your appliance fulfills its complete functional lifespan and avoids wearing out faster than it should.
Improve Your Indoor Air Quality
The quality of your indoor air speaks volumes about your health, the health of those around you, and how comfortable and enjoyable your indoor environment is, even when outdoor air quality is at an all-time low. Putting the needs of your HVAC system on the back burner will almost certainly negatively affect your indoor air quality (IAQ). Dirty air filters will fail to absorb and trap harmful pollutants and airborne contaminants, circulating them back into your indoor environment. This can trigger or cause allergy, asthma, and sinus symptoms, among other health conditions. By signing up for an HVAC maintenance plan, you can rest assured that a professional technician will meticulously clean and sanitize each system component to ensure you can breathe healthy, high-quality air year-round.
Save On Energy Bills
For many home and business owners, the costs associated with heating and cooling their indoor environment account for a substantial portion of their monthly spending. Over the course of your HVAC system's lifespan, it accumulates regular wear and tear. As this occurs, it can reduce the efficiency of your appliance and increase your energy consumption. Failing to have your system serviced twice each year for a tune-up will result in greater losses in efficiency over time, meaning you can expect a significant increase in monthly utility bills. Fortunately, with our HVAC maintenance program, your appliance can maintain its efficiency, and you can save on utility bills.
Prevent HVAC System Breakdowns
There are numerous benefits to joining an HVAC maintenance program. Among them are fewer repairs and system breakdowns, even when you use your HVAC system day and night in high-use seasons. Our maintenance plan is crucial in decreasing the likelihood of your system experiencing unexpected issues. During regular maintenance calls, our technicians clean and sanitize your appliance and perform all necessary maintenance tasks to ensure it functions optimally and efficiently. Through regular maintenance, our technicians can identify any wear and tear or faulty components that, if left unchecked and unrepaired, could result in severe problems in the long term. Don't chance it! Contact us today to get started.