Don't let a cold day greet you indoors — call Spoor's Heating & Air Conditioning for heating and furnace maintenance! Our technicians thoroughly inspect all types of heating systems, from electric furnaces to heat pumps. Scheduling professional heating system tune-ups with a trusted furnace maintenance service company can help you ensure your home or business is warm and welcoming all winter long. Call us today to schedule an appointment!
Why Schedule Heating & Furnace Maintenance?
There are three reasons — and benefits — for having regular maintenance and other heating services performed on any heating system:
Extend the functional lifespan of the heating system;
Optimize energy efficiency and lower heating costs; and
Reduce the risk of breakdowns and system failures.
The best time to schedule heating maintenance, such as a furnace inspection, is at the beginning of the fall season. While you may not use the system until middle to late fall, early preparation allows you to avoid what we call "the maintenance rush." By having our technicians attend to your heating system early, you'll have the peace-of-mind of knowing your system is ready to begin warming your indoor space on the first cold day of the season.
Multi-Point Inspection Checklist
Any type of commercial or residential heating system is a complex appliance. That's why Spoor's Heating & Air Conditioning follows a multi-point inspection checklist during each heating and furnace maintenance service. Our technicians check every part of the system, including these five components.
Burners
The burner in a furnace becomes dirtied over time with regular use. But unless a burner is routinely cleaned, soot build-up can cause combustion issues and shorten the lifespan of the furnace.
Flue Pipe & Gas Line
The flue pipe removes toxic byproducts of fuel combustion and is always thoroughly looked over during a furnace inspection. Any leak or blockage in the flue pipe and gas line is repaired immediately to prevent dangerous situations in the home or business.
Heat Exchanger
Inspecting this part of a furnace is crucial, especially with gas-fueled furnaces. It's not uncommon for heat exchangers to crack as the furnace ages. But, unless the cracks are discovered and repaired, there is the risk of exposure to toxic fumes.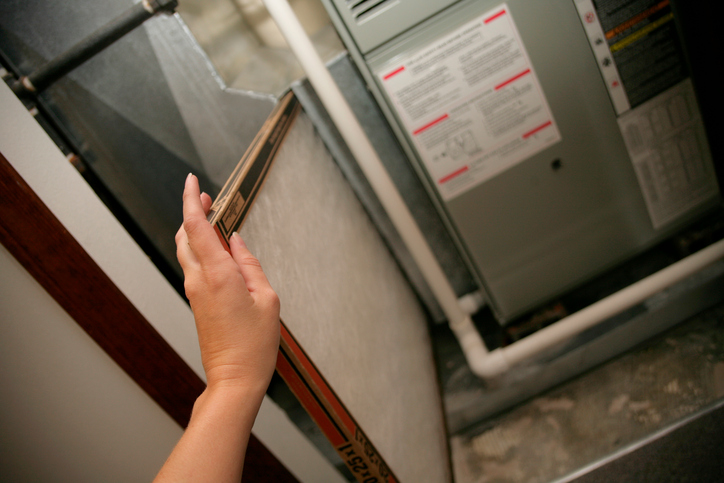 Motor Amperage & Voltage
Heating systems rely on several motors, such as the blower and compressor motor, to deliver warm air. Our technicians check the amperage and voltage of each motor and make any necessary adjustments to ensure your heating system is operating efficiently.
Thermostat
Thermostats can lose calibration for many reasons, all of which can affect how — or if — the thermostat communicates with the heating system. A malfunctioning thermostat can cause the entire system to work longer and harder than needed, resulting in more repairs and a shorter functional lifespan.
Heating & Furnace Maintenance Membership
Our Home Comfort Club takes the hassle out of maintaining your heating system each year. Members enjoy many benefits, including a discount on parts, no overtime charges, and more. Spoor's Heating & Air Conditioning provides a reminder — or two — when it's time to schedule furnace inspection and maintenance. It's our way of helping you enjoy the peace-of-mind that comes with a properly maintained heating system.
For nearly 40 years, Spoor's Heating & Air Conditioning has provided customers throughout the Sierra Foothill area with high-quality HVAC repairs. Our technicians are licensed, certified, and receive ongoing industry training so you're assured every repair and installation is done to the highest standards. Any time of year, Spoor's Heating & Air Conditioning is your trusted source for furnace maintenance service or an emergency repair in Auburn, CA. To learn more about our Home Comfort Club or other services, contact our office today!