Landscaping is the first thing guests see when they arrive at your home. And, it's understandable to take pride in creating a beautiful vista. However, sometimes landscaping around an AC unit can get a bit tricky. Whether you want to hide it away or just spruce up the area, making the proper considerations is essential. After all, your AC system is responsible for keeping your home at the right temperature year-round.
To help you do it correctly, our HVAC company is sharing seven tips for deciding on the best methods for landscaping around your AC unit.
Spoor's Heating & Air Conditioning offers an HVAC maintenance plan to ensure that your system is always operating at its best. Contact us today to schedule landscaping services or to learn more about all the HVAC services we offer.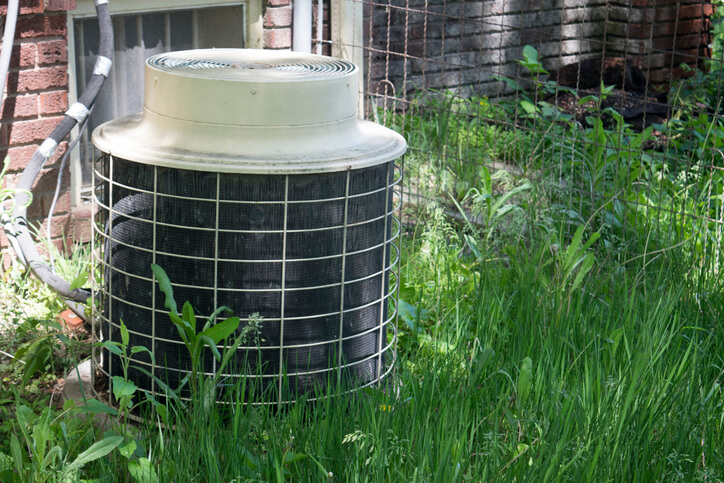 Leave Enough Space
It's important to leave enough space around the AC so air can move efficiently around the HVAC unit. As a minimum, plants should be 2–3 feet away on all sides. Remember to adjust your measurements for any plant growth that may cross the minimum threshold. Regularly trim trees or plants that grow above the unit to maintain a five-foot clearance. It's also important to leave enough room for a technician when it comes time for routine HVAC maintenance.
Think About Shade
Providing shade for the unit can actually help it run more efficiently, reducing energy costs. This is because keeping the unit and the air around it cool means that it doesn't have to work as hard. However, it's important to remember that trees that provide shade may increase the amount of trimming or raking you'll have to do. It's best to research the amount of upkeep required for any trees, hedges, or plants that you're considering.
Select The Right Plants
Obviously, choosing the right plants is largely dependent on where you live. However, when possible, try to select plants that don't lose their leaves when the weather starts turning cold. This will not only require less work when it comes time to rake but will also mean less accumulated debris around the unit. Hedges are common plant choices around AC units, but will still require regular trimming.
Create A Border
A condenser coil that's covered in grass clippings and dirt won't work as effectively and ultimately drive up your utility bill. Keeping the area clean is a clear solution, but that can be difficult given the location. To help the perimeter stay clean, consider creating a stone or gravel border around the unit. This will keep dirt packed down, grass clippings far away, and give rainwater a clean way to drain. It can also reinforce the minimum 2–3 feet space that should be maintained.
Use A Screen
Cleverly hiding your unit away with a screen can increase the beauty of your landscaping. There are many pre-made screen options on the market, including ones made to look like little sheds or fake plant screens so you don't have to worry about trimming. You can also use a trellis or lattice cover. If you want a more natural look, creeping plants can be placed around the trellis or lattice to grow over it. Just remember to keep it trimmed back from the unit!
Consider Potted Plants
Potted plants allow a certain amount of freedom. Not only are they easy to move if the plants become overgrown or if emergency HVAC repairs are needed, but it allows homeowners to switch out the plants along the way. Whether you're transplanting or just trying out a new plant, potted plants make it easy to change your mind. The pots themselves also act as a form of decor and can add a unique touch around your unit.
Consult An HVAC Specialist
If you're still unsure of the best ways to landscape around your AC unit, it can always help to ask someone who's a mainstay in the business. Whether homeowners are looking for a consultation, HVAC repair, maintenance, or indoor air quality services, you can depend on Spoor's Heating & Air Conditioning to deliver expert workmanship. Contact us today for more information or to schedule services.