As the summer season approaches its peak, it's time to start thinking about the high-use season with regard to your air conditioning system. We all know how summertime utility bills can soar, so understanding and taking advantage of best practices for optimal energy efficiency is critical. Yet, there are many different errors people make when it comes to their air conditioners that can cause increased utility bills, and HVAC issues and breakdowns.
Fortunately, there are several things you can do to keep your utility bills manageable, your HVAC system running smoothly, and avoid air conditioner breakdowns when you need cool, comforting relief the most! Here, our HVAC technicians with Spoor's Heating & Air Conditioning discuss the top mistakes that increase utility costs and what you can do about them. Call our HVAC company today to request AC service!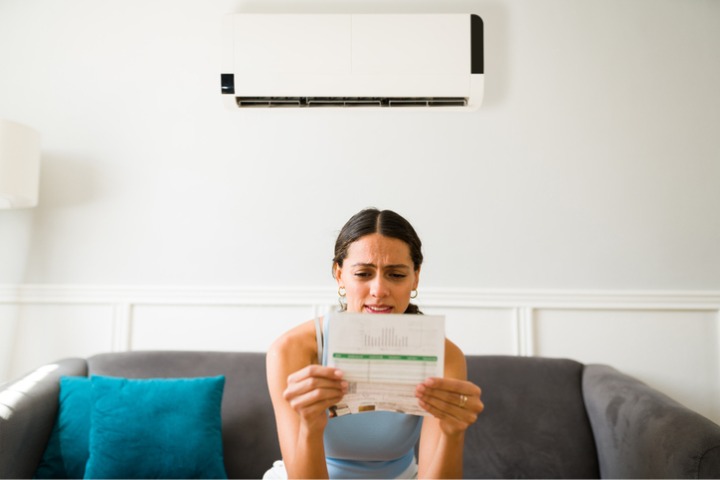 Forgetting To Replace The Air Filters
Your heating, ventilation, and air conditioning system filters your air, providing fresh, comfortable indoor air to your spaces. As they cool the air, they trap airborne contaminants and particulates, such as dust, dirt, bacteria, mold, and mildew. Over time, these air filters become saturated with accumulated particles, making less capable of cleaning the air.
This over-accumulation of particles makes it important to replace your air filters regularly. Forgetting to replace the air filters can lower your indoor air quality and cause your system to work harder than it should. This can result in a shorter functional system lifespan, the frequent need for air conditioner repair, and higher utility bills.
Keeping Outdated Appliances
Residential or commercial spaces with brand-new, energy-efficient AC units and indoor appliances reap the benefits of increased cost-savings on their electricity bills long term. HVAC appliances with Energy Star ratings use innovative technology to reduce the amount of energy used by around 30%, which means these units run on less power, keeping you cool and comfortable for less!
For those with old or outdated appliances, such as HVAC systems, the age and functional capabilities of their system can account for their high electricity costs. Over the course of your cooling system's lifespan, it can accumulate wear and tear, and without professional maintenance calls, timely repairs, and system replacement when required, a soaring monthly utility bill can result.
Failing To Schedule Regular HVAC Maintenance
If your HVAC system isn't functioning properly or at peak efficiency, you may be paying more for energy than you should. It's no surprise, then, that all HVAC systems require professional maintenance to continue functioning as efficiently and effectively as possible. If you have not hired an air conditioning technician in some time, or you haven't ever scheduled professional HVAC maintenance, now is the time!
One of the numerous benefits of twice-yearly HVAC maintenance is that these tune-ups can reduce your system's energy consumption and overall operating costs significantly. In addition to the cost-savings associated with a system running at peak performance, is the peace of mind you'll receive once you know that your cooling system won't fail you when you need indoor comfort the most! Find out how to save even more with our Home Comfort Club!
Overcharging Electronic Devices
When you plug in your electronic devices and leave them on the charger, it might seem like no big deal. But when it comes to reducing your monthly utility costs, this can be a big contributor! Forgetting to unplug your electronic devices once they are charged is a common practice among many people, and it can happen with all sorts of electronic devices.
But overcharging your electronic devices, whether it's your phone, laptop, or another device, can negatively impact your device's lifespan. With regard to your electricity bills, overcharging electronic devices is a great way to spike your utility bills! Instead of plugging in your devices to charge overnight, plug them in early and unplug them before you go to sleep. This way, you won't leave them plugged in for more time than necessary.
Opening The Windows While The AC Is On
On those cool, breezy summer nights, you may feel inclined to open the windows and let the beautiful outdoor air, indoors! But if you forget to turn your AC off before you do, the result could be more dust, increased indoor humidity, irregular and inefficient cooling, quicker wear and tear, and (of course) higher electricity bills. Whenever your system has to work overtime to meet the preset temperature, utility costs will rise.
The best way to avoid these issues is to ensure that all of your windows are securely shut any time that your HVAC system is in operation, no matter the time of year. To ensure your air conditioner maintains its efficiency and cooling power, we recommend scheduling a preventative air conditioner service twice a year and HVAC repairs promptly after a problem arises. Contact Spoor's Heating & Air Conditioning today to get started!